Sweet Caroline by Neil Diamond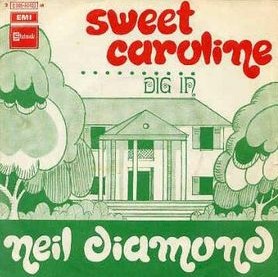 Not only a classic song in its own right but also a karaoke fan favourite, Sweet Caroline by the artist Neil Diamond is one to add to your list of songs to sing particularly if you have a deeper voice. While classic songs aren't to everyone's taste, if you've frequented enough karaoke bars then you'll definitely have heard this song at least once or twice.
Originally released in June in 1969 with the title 'Sweet Caroline (Good Times Never Seemed So Good)', the title was colloquially sho
rtened to just 'Sweet Caroline'. The song managed to peak at number 4 on the Billboard Hot 100 in the week ending August 16th in 1969 and was popular enough to be certified gold by the RIAA on the 18th of August in 1969 for managing to sell over one million singles.
Although it might be slightly on the more challenging side for those who haven't had any vocal training, it's still great to give it a go when you're amongst friends who just want to have some fun. Try listening to the song a few times and you'll definitely find yourself liking it.